Breakdown barriers and
streamline
business processes.
We build and implement data-based business and marketing solutions for your business so you can focus on what matters most.
Re-vamp your brand's design
We can help you create brand identities, digital experiences, and print materials that communicate your business clearly and beautifully.
User Journey Organization
You know your customers and what they want. Let's make it easier for you to show them what they're looking for.
Targeted Digital Marketing
We use data capturing to analyze your clients, where they are and who they are. Using email marketing to organic methods to boost sales and engagement.
Communication is vital within a business, at ThindTech we set up your systems to make keeping up with co-workers and clients a breeze.
Some of The Solution Systems We Specialize In
Dynamically Automated Businesses
Information is constantly needing updating and organization. Let us help you get your data to work for you, not the other way around!
CLIENT AND INDUSTRY FOCUSSED RESEARCH, DESIGN and COMMUNICATIONS.
Empathetic Design/Development Approach
We take the time to truly understand your business's processes, goals and customers to cater our designs and implementations to fit in smoothly with your current workflow and clients.
No more complex codes or boring designs. Creating an attractive and functional site has never been easier.
Frequently Asked Questions.
Support Team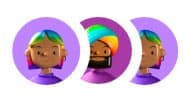 Contact us today for a free business consultation!